Technical parameter:
| | |
| --- | --- |
| ITEMS | Nominal Value Unit |
| Specific Gravity | 0.95~1.14 |
| Melt Mass-Flow Rate(MFR)(190ºC/10.0kg) | <15 g/10min |
| Carbon Black Content | 40 % |
| Moisture Content | <0.15 % |
| PE Carrier | 52% |
| PE wax | 8% |
| Production Temperature | 150-180ºC |
| Mobility Resistance | 5 |
| Light Fastness | Grade 4-8 |
| Migration Resistance | ≥4 |
| Heat Resistance | ≥4 |
| Add Ratio | 2%-10% |
Package: 25kgs Kraft Bags
Technical Specification: SGS Certificate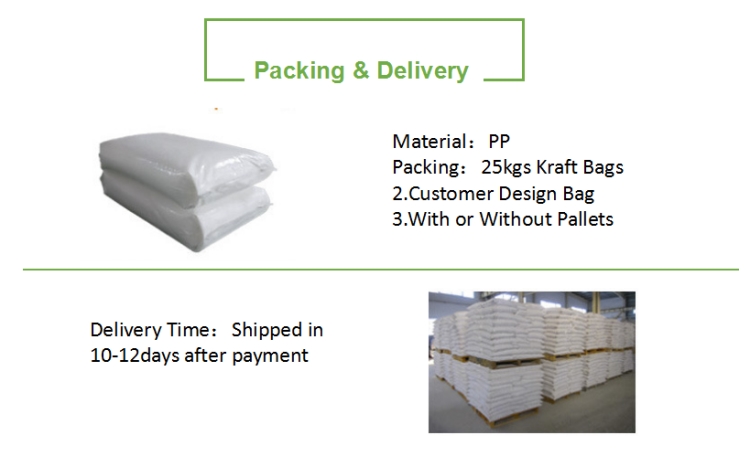 Applications of black masterbatch:
1. PE/PP Injection Molding (Box, Containers, Chairs, Crates, Buckets, Battery, cases, Hangers, etc.)
2. PE/PP Extrusion Molding (Sheet, Pipe, Wire & Cable, etc.)
3. PE Blow Molding (Medical & Cosmetic container, Lubricant & Paint container, etc)
4. PE Film (shopping bags, casting film, multilayer film, etc.)
5. PE Fiber (Carpet, Textiles, Upholstery, etc.)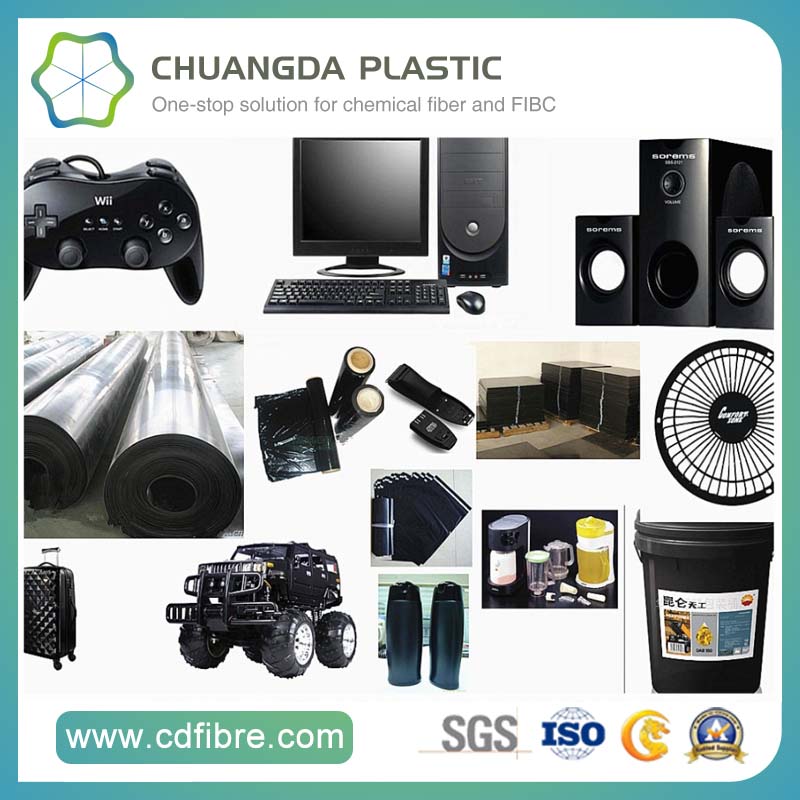 FAQ:
Q1. How to use masterbatch?
A: just mix up with the resin granules according to the dosage ratio under appropriate temperature.
Q2. The difference between the general use and the special purpose masterbatches?
1: Special purpose masterbatch: used as the same material as carrier. For example, PE products often use master batches based on PE.
2: General use masterbatch: Use one resin as carrier, but also can be used for coloring other resins.
In general, it's easy to use this masterbatch but there are some shortcomings:
A. Poor predictability of the color.
The final color changes according to the change of resin.
B. Affect other characters of plastic products.
Especially the hardness of products for it's easy to be deformed and distorted, especially for engineering plastic
C. Higher cost
General use masterbatches often use pigments which have higher heat resistance grade and higher cost.
Q3. How long the masterbatch could be stored?
A : If stored under a dry and cool environment, the quality of masterbatches will not change even after a long period of store, for the pigments fixed on the carrier resin which stay in a closed state.
Q4. Does the masterbatch need to be dried before use?
A : In general it can be used directly except ABS and some expecial masterbatches mentioned, which should be dried according to common method.
Q5. Does the masterbatches influence the property of products?
A : Some pigments have effect on flame resistance. It should be mentioned as first if is used for flame resistance products.
Q6. Does the mould have an effect on masterbatches?
A : If ask for a smooth surface, Good quality mould is needed.
Q7. Do you accept Credit Card, Visa, Paypal,etc. payment?
A : Payment terms is FOB SHANGHAI, LIANYUNGANG port, by TT (30% deposit), balance against the copy of B/L or L/C at sight.
Q8. Will the color of masterbatches fade?
A : Absolutely not.
Q9. Besides coloring, does the masterbatches have flame resistant, brightening, anti-static, anti-oxidation , anti-ultraviolet functions?
A : According to the application of products, like brightener, we could make it according to your requirements.